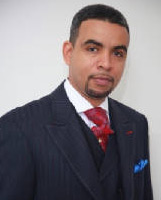 Joseph R. Joyce, Sr. is the Senior Pastor and founder of Harvest Time Worship Center Church of God in Christ, located in Richton Park, IL. The church was founded in 2005 by the direction of the Holy Spirit.
Pastor Joyce is a visionary leader, innovative and evangelist with a passion to inspire and encourage believers as well as non-believers. He has a thriving ministry and is an anointed vessel of God. Pastor Joyce was given the gift to proclaim the gospel of deliverance into the lives of people everywhere. His ministry has called him to reach out and help people with difficult challenges, and situations through the strength of God.
Pastor Joyce has been devoted to the ministry that God called him to for over twenty-four years. He has preached at conferences, workshops, and seminars in cities throughout the United States. He was blessed with the opportunity to minister the gospel in the twin islands of Trinidad and Tobago.
Pastor Joyce is a pillar in the community. He was awarded the 2019 Citizen of the Year Award in the community where he Pastors. He dedicates his time and efforts in developing community and church relationships. Through God's direction he started the H.O.P.E Ministry (Helping Out People Everywhere) at his local church. This ministry has provided food baskets to families and book bags with school supplies to hundreds of children in their local and surrounding communities and in the Chicago land area.  He also had the privilege to dedicate a Park in Richton Park, IL.
He has volunteered his time to minister the gospel to students at Northern Illinois University College, and at Bloom High School's At Risk program.  He serves as Jurisdictional Secretary in the Northern Illinois Jurisdiction under the Prelate of Bishop E.M. Walker. Pastor Joyce also devotes his time with men in the Penal Institution by preaching the gospel, and he's also a licensed Chaplain at the Cook County Jail.
Pastor Joyce studied at Mason Roberts Bible Institute for Biblical and Ministerial Leadership. He attended Lewis University College, where he studied Business Management and Computer Information Systems courses. He currently works in Corporate America and has for the past twenty-five years.


Pastor Joyce has been married to his childhood sweetheart, Sherita for over thirty years, and she works diligently alongside with him in the ministry. They are the parents of three children. Pastor Joyce's belief is "People are our passion, and praise is our purpose."
---